Update!
This series of reports is currently being updated to reflect the 2014-2016 time frame. Beginning May 9th, order any of the 2011 reports below, and we will send you the updated version when it is available later this summer. (Not applicable to purchases made before May 9, 2014.)
Overview
The Market Summary Series of more than 80 T&D and related automation report topics provides an effective, low-cost approach for management to quickly obtain an assessment and overview of key attributes of each industry segment, including 2011 estimates of U.S. market size for utilities (by type) and for industrials; key players, and the near-term outlook for the segment.
Each report includes definitions of what is included in the segment, lists of market participants and their estimated 2011 revenue, a market share assessment (pie chart), 2011 market size range estimates, history and outlook of estimated spending changes
Methodology
The data for these reports is being obtained through secondary research, interviews with equipment/systems suppliers, industry consultants, the U.S. Department of Commerce, and from information gathered from more than 200 earlier Newton-Evans survey based studies.
(Sample Image)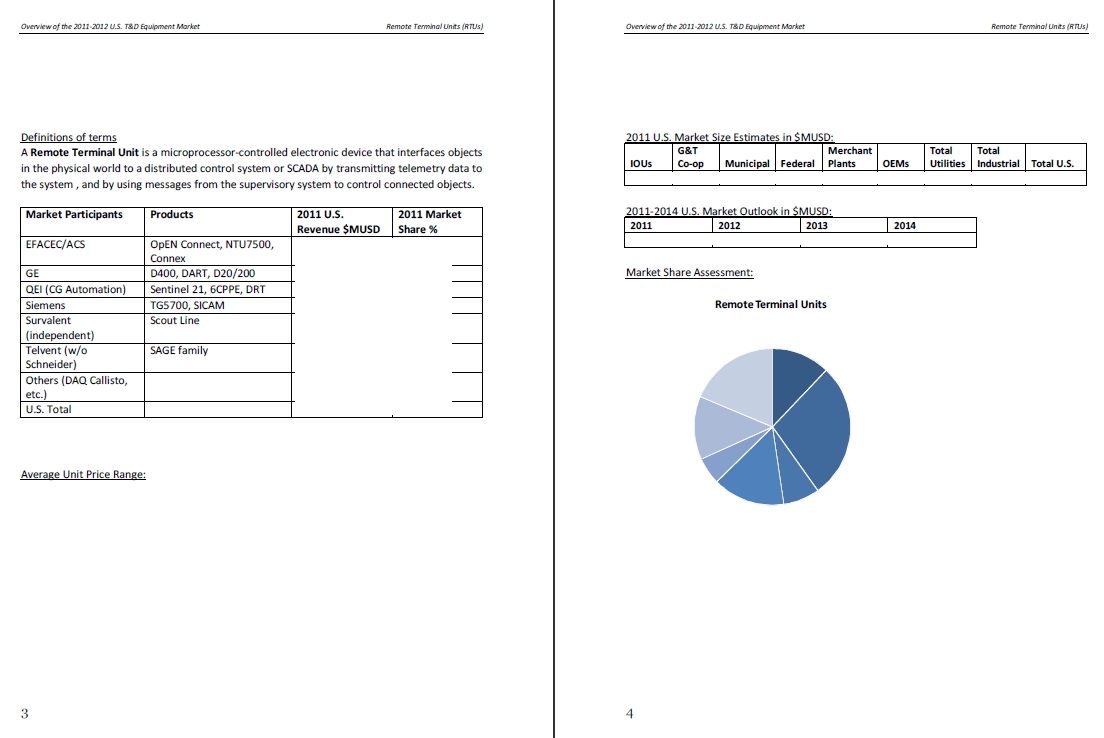 Reports in the T&D Market Summary Series, available for $150 each or discounted per complete set (click to order)
High Voltage Series
Complete HV Series Price: $975.00
HV01 – FACTS and RPC
HV02 – HVDC
HV03 – Air Insulated Substations
HV04 – Gas Insulated Substations
HV05 – Air Insulated Switchgear
HV06 – Gas Insulated Switchgear
HV07 – High Voltage Bushings
HV08 – High Voltage Capacitors
HV09 – High Voltage Circuit Breakers
HV10 – HV Disconnect Switches
HV11 – High Voltage Circuit Switchers
HV12 – HV Instrument Transformers
HV13 – Air Core Reactors
HV14 – HV Surge Arrestors
HV15 – Generator Circuit Breakers
Power and Distribution Transformer Series
Complete Transformer Series Price: $975.00
TX01 – Mobile Transformers
TX02 – Medium Power Transformers
TX03 – Med-Large Power Transformers
TX04 – Large Power Transformers
TX05 – Very Large Power Transformers
TX06 – Shunt Reactors
TX07 – Special Transformers (Arc, Furnace)
TX08 – Distribution Transformers (OH, Oil, 5kva+)
TX09 – Distribution Transformers (Dry Type)
TX10 – Transformer Life Management Services
TX11 – Transformer Monitoring and Diagnostics
Control Systems and Services Series
Complete Control Systems and Services Series Price: $975.00
CS01 – EMS Systems Integration
CS02 – Distribution SCADA
CS03 – Geographic Information Systems
CS04 – Customer Information Systems
CS05 – Outage Management Systems
CS06 – Meter Data Management Systems
CS07 – Mobile Workforce Management Systems
CS08 – Advanced Distribution Automation
CS09 – Electric Power Market Management System
CS10 – Cyber Security Software for Control Systems
Protection and Control Series
Complete Series Price: $875.00
PR01 – Feeder Relays
PR02 – Line Differential Relays
PR03 – Generator Relays
PR04 – Motor Control Relays
PR05 – Electro-Mechanical Relays
PR06 – Drop-In Control Houses
PR07 – Synchrophasors (PDUs/PDCs)
PR08 – Teleprotection
Distribution Automation Series
Complete Series Price: $975.00
DA01 – Automatic Circuit Recloser Controls
DA02 – DA/DMS System Components
DA03 – Voltage Regulators
DA04 – Capacitor Bank Controllers
DA05 – Fault Indicators (same report as MV17)
DA06 – Pole Top RTUs
DA07 – Line Mounted Monitoring Devices
DA08 – Communications Components for DA
DA09 – Engineering Services for DA
Substation Automation Series
Complete Series Price: $975.00
SA01 – Remote Terminal Units
SA02 – Programmable Logic controllers
SA03 – Substation Automation Platforms
SA04 – Multifunction Meters and Recorders
SA05 – Inter-Utility Revenue Meters
SA06 – Digital Relays
SA07 – Digital Fault Recorders
SA08 – Sequence of Events Recorders
SA09 – Power Quality Recorders
SA10 – Substation Reclosers
SA11 – Substation Automation Integration Specialists
SA12 – Substation Communications
SA13 – Substation Voltage Regulators
Medium Voltage Series
Complete MV Series Price: $1,500.00
MV01 – Air Insulated Metal Clad Switchgear
MV02 – MV Motor Controllers
MV03 – MV Gas Insulated Switchgear
MV04 – Automatic Circuit Reclosers
MV05 – Outdoor Distribution Circuit Breakers (5-38kv)
MV06 – Load Interrupter Switchgear
MV07 – Overhead Disconnect Switches (15-38kv)
MV08 – Sectionalizers
MV09 – Fused Cutouts
MV10 – Pad Mounted Switchgear
MV11 – Submersible Switchgear
MV12 – Bus Duct and Bus Bar
MV13 – Substation Class Pad Mounted Capacitors
MV14 – Current/Instrument Transformers
MV15 – Fault Current Limiters
MV16 – Fault Current Indicators and Faulted Circuit Indicators
MV17 – Current Limiting Fuses and Fuse Links
MV18 – Surge Arresters