Here are the reasons for our viewpoint that Hubbell's Power segment (known as HPS) will lead the company's growth over the coming years.
HPS will be a stronger participant In the Energy Automation business with its recent acquisition of RFL and as of last week, its acquisition of Aclara.  Aclara has been a double digit market share participant in the crowded field for smart meters, and for data communications in the three utility areas (electric, water, gas). This will also expand interest among water and gas utilities for more HPS-related offerings and will also be likely to benefit each of the three key business units within the company's Electrical segment.
HPS is a double-digit market share participant in several medium voltage product/market segments and is a market leader in the manufacture and sale of transformer bushings for both HV and MV applications. HPS is also a major participant in the market for surge arrestors  – especially lower voltage elbow arrestors connected to padmount switchgear units. Reclosers, Overhead MV switchgear, fused cutouts and padmount switchgear are additional product segments in which HPS holds important shares of the U.S. market. HPS' development of a combined line post sensor offering for monitoring voltage and current, also serves as an insulating device.
Here is a graph showing the 2014-2016 revenue trends and the revenue outlook for 2017 and 2018 for Hubbell's two operating segments. 2018 outlook includes potential revenues from the Aclara acquisition.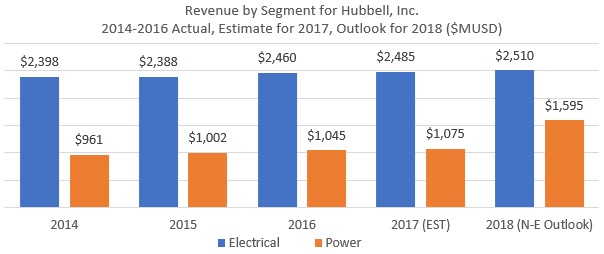 Be sure to read our full Hubbell profile in the upcoming edition of Market Trends digest.