The Newton-Evans Research Company has released a new report on global substation automation markets based on the company's 2016-2017 world market studies of substation automation and integration activities. The objective of this market outlook report by Newton-Evans Research Company, according to CEO Chuck Newton is "to provide world regional substation modernization market sizing, including country-specific activities for the largest countries in each region. As such, the outlook report complements the survey-based volumes covering North American and International substation automation markets, also completed in November."
This newest report undertaken by Newton-Evans has been developed using a variety of information sources including:
Reviewing available and ongoing Newton-Evans' studies of substation automation through the fourth quarter of 2017.
Incorporating data from the Newton-Evans global electric power market model which provides the outlook for substation-related activities and investments based on (1) the estimated number of substations in each of 180+ countries, and (2) Newton-Evans 2017 survey-based findings from utilities, consulting firms and automation systems and equipment providers.
Requests made during 2014-2017 for summary market-related information from major substation automation-related suppliers. Review and updates of supplier profiles for more than 50 specialist firms around the world will be published as Volume Four to the new series.
Review of project data from NGO sources of funding, for investments used primarily (or in part) for substation construction and modernization.
Based on the findings from these various sources and research methods, this new report includes the following sections:
Narrative Summary of Observations for each of eight world regions.
Counts of substations by country for each world region.
Estimates of substation automation-related investments made in each world region and for major countries.
Estimated market shares by world region for supplier groupings by provider type, i.e., specialist substation integration firms; SCADA-related systems integrators; IED manufacturers with substation services business units; T&D engineering services having substation integration expertise; other substation integration service providers
Examples of NGO funded loans and grants used for substation modernization projects in various countries.
The following chart illustrates the estimated total number of HV substations in each world region.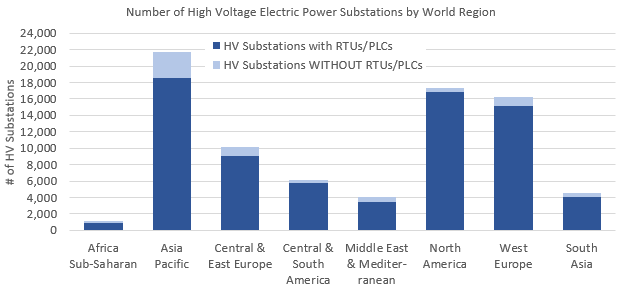 Continue reading Global Outlook for Substation Automation and Integration Continues to Show Impressive Growth