The Newton-Evans Research Company continues to assess its findings from the firm's comprehensive 2017 study of EMS, SCADA, DMS and OMS usage patterns among utilities from more than 30 countries.
Current status of Advanced DMS (ADMS)
The Newton-Evans' survey asked respondents to indicate whether their DMS installation provided SCADA, DMS and OMS functionality together in one user interface and this served as our definition of ADMS for this study.
Overall, 69% of international electric utilities who responded to the survey either currently have or plan to have an Advanced DMS that provides SCADA, DMS and OMS together in one user interface. Thirty-five percent currently have ADMS, and 34% plan to implement ADMS in the near future.
This contrasts with only 9% of North American survey respondents who reported having an ADMS as of the first quarter of 2017. Twenty percent of North American respondents indicated they will have an ADMS by the end of 2019, and another 17% indicated plans for implementing an ADMS sometime after 2019. Overall, 46% of the North American sample either currently has or plans to have an ADMS. Some of the North American sample included "transmission-only" utilities/ISOs.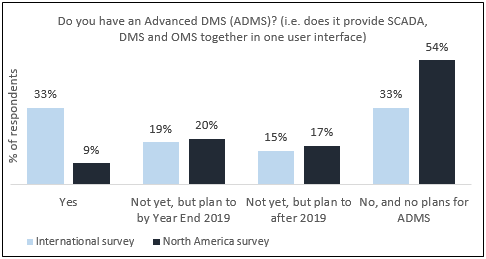 fig. 1
Continue reading Multi-Part Newton-Evans Research Study Reveals Significant Growth Likely for Advanced DMS Systems and Applications