During the first quarter of 2015 Newton-Evans Research Company studied the North American market for single phase reclosers. This survey based report addressed questions pertaining to purchasing volume by type (kV rating and insulation type), protection for 1-phase laterals, brands used, types of connections for recloser communications, importance of various recloser features, and other topics.
Newton-Evans found that out of 46 electric utilities who responded to the survey, 72% currently use single phase reclosers on their system and 4% plan to use them in the future. The total number of installed single phase reclosers among the survey sample included about 18,000 units, with the vast majority of those being oil insulated (as opposed to other insulation types like solid dielectric.)
Some key findings from this report suggest the following:
(1) Electric utilities predominantly use fuse protection on single phase taps rather than use a single phase recloser.
(2) While the bulk of survey respondents indicated a greater installed base of oil insulated single phase reclosers, on an average annual basis some utilities indicated they purchase many more solid dielectric reclosers than oil insulated.
(3) Nearly one-half of the respondents said that over 70% of future recloser purchases will be for new units and not for replacements.

Question: Over the next 3 years, please estimate the percentage % of 1-phase reclosers your utility will install on 1-phase laterals vs. feeder main applications.
Only a minority of new purchases of 1-phase reclosers will be installed on single phase laterals, although four utilities plan to use more than one-half of their 15kv purchases to protect single phase laterals. Three utilities plan the same (50%+) for 26kV units, none replied with any indication of any plans to use single phase reclosers of 38kV laterals.
Question: What types of connections are required for recloser communications?
Ethernet ranked as the type of connection required for DA communications, with rs-232, fiber and wireless connections also very important to this group.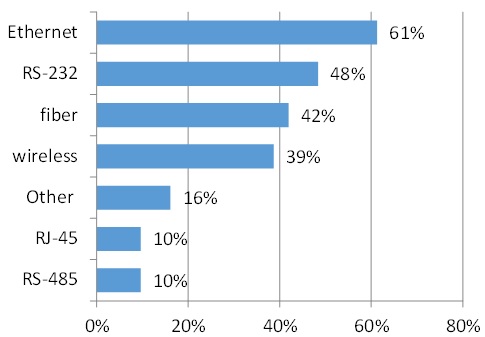 Question: How are the 15kV 1-phase laterals on your system protected?
For 15kV laterals, most utilities indicated the vast majority of laterals are protected, but are protected by and large, via the use of fuses. Few 1-phase laterals are protected by reclosers and even fewer by electronic sectionalizers.
Question: What are your preferred protocol for recloser communications?
Clearly, the US utilities are still tightly aligned with DNP 3 as the most critical DA protocol, and the protocol that all manufacturers of DA devices do provide.
For more information about the market for reclosers or other research topics, give us a call: 1 800 222 2856.